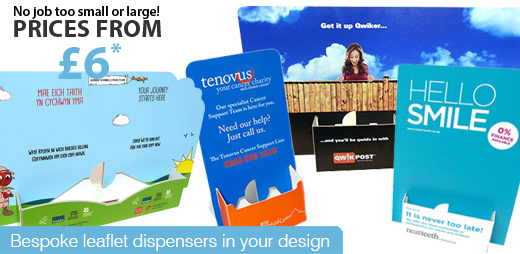 Bespoke Printed Leaflet Dispensers for You!
Your leaflet dispenser can be printed and manufactured in almost any size or design. No quantity too small. Using the latest Digital print & cutting equipment.
As long as the flat size of your leaflet holder fits within our preset template (500mm x 400mm) then you can take advantage of the very special prices shown below:
Twistlock Leaflet Dispensers
| Qty | Price |
| --- | --- |
| 20 | £200 |
| 30 | £250 |
| 40 | £300 |
| 50 | £350 |
| 100 | £600 |
All prices exclude UK VAT (20%). FLAT SIZE To fit within 500mm x 400mm. Any shape, SUBJECT TO APPROVAL. Digi printed direct to 2mm display board – one side only. Cut to size & supplied flat. PDF A/W to be supplied. 1 type. Delivered to 1 UK Address. We can help design a template for £60 (dependent on design complexity)
If not don't worry. Just fill in the bespoke quote form and we will create a quote tailored for you.
Why Would You Want Bespoke Printed Leaflet Dispensers?
Leaflet dispensers are a good way of clearly promotion your brand or message
Create your own design (branded or unbranded)
Prevent competitors using your advertising space or holders for their own materials / leaflets
UK Made – We have our own in-house manufacturing facility
And best of all the more you buy the more money you save!
Still not convinced? Have a look what our customers have to say about their Bespoke Leaflet Dispensers
"Just to say thank you very much for the folders – they look really great and are ideal for what we need. I would highly recommend using you and we will certainly consider using you for anything similar in the future! You have been a pleasure to deal with."
Your Bespoke Leaflet Dispenser Options
Full & spot colour printing
Create a prototype of your design as optional extra
Any size that fits within 500 x 400mm sheet
Materials: Display board of varying thicknesses
For your bespoke quotation, simply fill out the quote form telling us what you want and we'll get back to you asap!
Shown below are a few examples of the types of

 leaflet dispensers

that can be manufactured for you. Please contact us for more information on the specific design you require.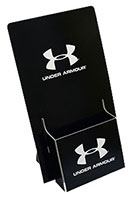 A)
Flat size approx 297 x 392mm. Printed black both sides. Die cut to shape and supplied flat. Material 1.75mm display board..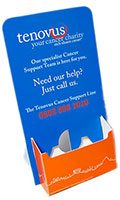 B)
Flat size approx 325 x 370mm. Litho Printed Sheets Mounted onto 1.5mm Display Board and Die Cut to Shape. Assembled Using "Twist and Lock" System.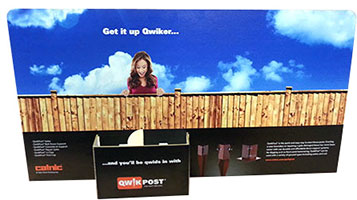 C)
Flat size approx 415 x 322mm. Digi printed full colour one side only. Die cut to twist lock format. Material: 2mm Display board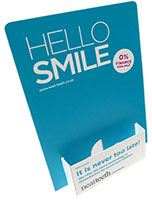 D)
Flat size approx 343mm x 395mm. Digi printed direct to 1500 micron display board – one side only. Digitally cut to size. Supplied flat – not made up.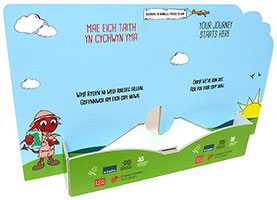 E)
Flat size approx 390mm x 297mm. Twist lock format dispenser, Centrally positioned large shaped pocket with a 30mm capacity & 53mm high. The Pocket is 225mm wide left to right, and has a separator to accomodate 2 lots of 110mm wide leaflets. Digi printed direct to 2mm display board – one side only. Digitally Cut to size.
F)
Flat size approx 280mm x 385mm. Printed red & flood UV varnish on one side only. Die cut & scored to shape & supplied flat. Material: 2mm display board.