Get Your Ring Binder Contents & Tabs Sorted
Are you fed up of hearing 'sorry we can't do that'?
Well the great thing about Screentec is WE CAN! Not only can we supply you with the products to protect and store your important information, but we can also supply the information itself! You can source it all in our one stop shop.
You tell us what you need and we'll provide it all.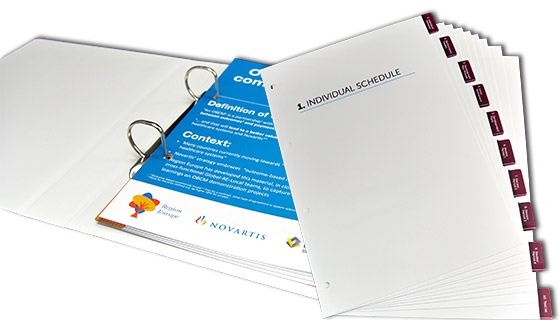 Why Would You Want Bespoke Printed Tab Dividers?
Dividers are no longer simply dividers. Information, design and advertising can now be incorporated onto the dividers. Full colour images, or simple text.
Die cut or digitally cut to your own unique requirements. They're the ideal solution for professionally organising your product manuals or training packs.
Ensure that your binders contents are neatly presented and organised with a sleek and stylish finish.
We can also provide collation and fulfilment services too!
Polypropylene Divider Options:
Thickness: 350, 500, or 800 microns
Material Colours: White or Frosted Clear
Print Methods: Screen printed, litho printed, or digitally printed
Sizes: A4, A5, A6, or bespoke
Where Do You Start When Buying Binder Contents?
This is where we step in…
Whether you need to print your training manuals, H&S manuals, legal reports, or printed booklets, we can help!
We'll help advise on the best fit for you.
We can print either full colour or in black and white, as well as printing double or single sided pages.
Paper Options:
Matt or silk 90gsm, 120gsm, 170gsm paper weight (other weights are available)
Matt 90gsm as standard for black and white
Matt or silk 100gsm as standard for colour
The ring mechanism capacity will dictate how many sheets can fit into your binder.
Still not convinced? Have a look what our customers have to say about their Contents & Tabs
"Just to say thank you very much for the folders – they look really great and are ideal for what we need. I would highly recommend using you and we will certainly consider using you for anything similar in the future! You have been a pleasure to deal with."
For your bespoke quotation, simply fill out the quote form telling us what you want and we'll get back to you asap!